What I'm doing in 2023 for Marketing, Sales, & Product Suite
Feb 23, 2023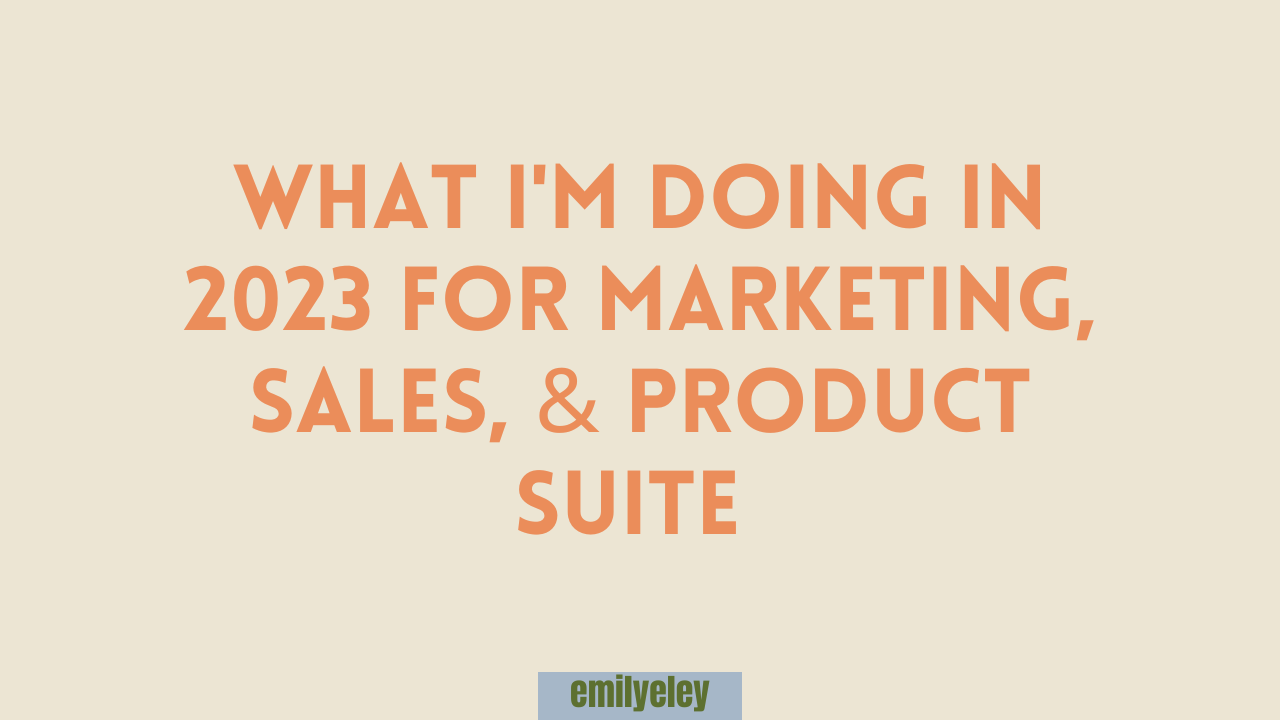 It's a snow day here in BTV. Maybe it is where you are too.
I had originally started this very juicy, jam-packed email for you early last week with the intention of getting it out before my 38th birthday (this past Monday). But alas, I've had sick kids, sick me, friends visiting from out of town, snow days, and painfully sleepless nights.
So here I am sending this email to you about 2 weeks later than planned.
#doingmybest
How are you?
In theory I would have actually sent you this email way back in January but oh you know, having a baby and all had me not doing much annual planning.
So I'm doing my 2023 marketing, sales, and product suite planning NOW.
And I have a feeling it's very possible you also are still trying to figure some stuff out for this year and this email might be arriving just at the right time. 🤷🏻‍♀️ (I've learned over the years I'm very rarely alone in how I'm experiencing any stage of life.)
---
But before I jump into all the rad marketing & sales strategies I'll be using this year, I was really excited to share a little birthday present. Something I haven't done before. And even though my birthday was on Monday, I figured hey it's still my birthday week, right?!
For the rest of the week (until Sunday 2/26 at 8pm ET) Made 4 More is 38% OFF in honor of my 38th birthday! 🥳
That means pay in full is not $2,500 but instead $1,550 ($950 off!).
And the payment plan is not $625/month but instead $388/month!
If you've been itching to join us, now might be truly the best time. Ready? Cool. Scroll right down to the bottom 👇 of this email to read more about joining M4M or click right here and use coupon code HAPPY38 in the checkout to join today!
---
Alright. Let's dive into the meat, shall we?
What marketing and sales strategies am I dreaming up for 2023?
What services and products will I be offering?
What's working this year for marketing?
What's dead? ☠️
Do people still want virtual stuff or are we making a hard swing to all in-person stuff?
Do people still want virtual courses?
What about group coaching programs?
How many offers/products/services should I have?
Let's talk about what strategies you might want to try this year in terms of marketing, sales, and product suites!
Before we can decide on the strategies we want to use we need to define our priorities and constraints.
'Cause what good is dreaming up some fantastical marketing plan if you can't actually execute on it or it doesn't lead to the results you need this year??
None.
The answer is none.
My Priorities & Constraints in 2023
The first thing I needed to figure out was:
👉 What's important to me this year?
👉 And what kind of resources am I working with?
In other words, what do I need and what are some of the limiting factors I'm up against?
My #1 priority is being present and available to Lane ((my 11-week-old baybeee. omg he found his thumb this week (pictured below) and it's pretty darn cute)).
Babies are only babies for a very short time and then (at least my babies) are off to daycare, school, camps, etc. I want to be available to nurse and care for Lane this year.
My other priority is to increase my income by 25%.
I currently pay myself $4k a month and I want to pay myself $5k a month. We will be spending just over $3k a month on daycare starting in September and we simply don't make enough money as is to cover that.
(hint: being transparent about money, paying yourself, the cost of living, etc. is one of many ways we can start to dismantle the shame we embody through capitalism. try it sometime!)
And now some constraints...
My biggest constraints right now are time and energy.
Did I mention I've worked approximately 90-minutes so far this week and it's Thursday? 🥴 I do not have time on my side right now.
We can currently afford 21 hours of nanny time for Lane. I of course don't get to work all of those 21 hours. I did the math and I get about 16 hours of work a week after nursing, eating, showering, and exercise.
I'm also tirrrreeddddd.
Waking up in the middle of the night for the last 3 months has me running on fumes.
So to recap:
1. My priorities are to be available to Lane and to increase my income by 25%.
2. And my constraints are having limited hours to work and being more tired than usual.
It's your turn.
What are your priorities and constraints this year?
Write them down right now!
Ok now on to the juicy bit...
What strategies will get us to our priorities?
This year I've decided to take a simplified approach to my marketing, sales, and product suite.
Even if you didn't just have a baby, I'm guessing there's a high probability that you might also benefit from a simplified approach.
Capitalism had us running hard these last 2 years and mannnnnyyy of us need some rest, ease, and to simply be doing less.
Now, if you're in a year of pushing big and bold...amazing. Do you.
There have certainly been years, and will be years in the future, where I pulled out all the stops and did so much cool stuff.
This simply isn't one of those years.
This is more of a minimum viable year, ha!
Ok, so here are the strategies I'm implementing...
In terms of my Product Suite (aka what I'll be offering)
This year I'm focused on continuing to offer Made 4 More.
I've noticed a trend (thanks capitalism 🙄) especially in service-based businesses to constantly be making something new. First of all this is exhausting. Second, it doesn't actually let you learn anything about building a really dope product. Good things often take time, editing, iterations, trial and error. If you're dumping your offer for a new one every quarter it's hard to really build up brand awareness/build something that works.
So nothing new from me this year (likely) in terms of offers, but instead what I'm focused on is these 3 things:
Continuing to offer

Made 4 More

as an "evergreen" program. Meaning you can join us year round on your timeline, not mine. I've looooved taking a step back from live launches. You might enjoy this shift, too.

(scroll to the bottom of this post to join us this week for 38% off!)

Prioritizing intimacy in the program. Making sure you get all the 1:1 time you need with me and building deliciously intimate cohorts.

Increasing accessibility. Made 4 More just gained VSAC status meaning if you live in VT you could get a grant to do M4M for free

(email me if you'd like to apply through VSAC. it's painless and fast!). I've added an extended payment plan with no added cost and I'm looking into offering just the curriculum to do at your own pace at a significantly lower price point.
In addition to Made 4 More, the other way I make money is through my consulting projects.
This year I will be rinse and repeating last years consulting gigs and likely only making space for one more larger engagement in the fall. But just because I'm doing the same work again doesn't mean there wasn't room to ask for more money.
So I did that. You can too.
Again, you don't always need to be doing something new or different. Sometimes fine tuning and simply dialing in what you already do well can be a super fast and simple way to meet your priorities.
What I will be doing in addition to the above is asking for referrals and beginning to book work into 2024 as I go through this year so that when my bandwidth expands again next year as both kids will be in daycare and need me less, I'll have already done much of the leg work. Yay for future planning. 👏
Now let's talk about marketing in 2023
I saw a reel earlier this week on Instagram lamenting about how after a whole year of IG commanding we all prioritize video they're now going back to prioritizing photos.
I couldn't help but laugh.
Hamster 🐹 wheel, anyone?
In the M4M curriculum I teach that marketing is two paths:
developing deeper relationships with the folks who are already in your orbit (👋 you)

finding new humans out in the world who haven't heard your message yet
In an ideal situation we have a strategy for each of these groups of people. And the strategy/content is different for each group. The folks who already know you and your work are much much closer to entering a paid relationship with you than the folks who don't know you yet or just met you today.
So it makes sense that the marketing efforts we employ for one group aren't going to be the same for the second group.
There are also times when you'll be more focused on one group than the other. For example, if you're actively in a sales push trying to reach folks who don't know you isn't the best use of your time. You'd be better served by talking to the folks who already know you and your product. They're more ready to buy.
But if you're always only talking to this more advanced/knowledgeable person, then you're missing the opportunity to meet new people.
Make sense?
So two ✌️ part approach.
In 2023 I will be primarily focused on email marketing and I will actually be letting go of posting on my feed on social media for the time being.
It's possible social media will come back into the fold for me in the second half of the year, but I'm cool with the decision being up in the air for now.
I'll continue to show up in my stories (deepening connections with people who already follow me) but I won't be curating new content for my feed. All of my new content will be here, in email.
March 7th's Spill the Tea Talk will actually be all about this: Marketing without Social Media. Save your seat (it's free) and we'll dig into what exactly I'll be working on and some suggestions I have for you if you're looking to take a break from social but not a break from marketing.
Along this vein, I'll be prioritizing marketing efforts that entail me showing up live with little to no prep work.
I will continue with my monthly free Spill the Tea Talks.
These talks have been working really well for new people to get to experience what it's like to co-create and be in relationship with me without having to pay for anything.
I've seen a strong correlation between folks coming to one or two Tea Talks and then applying for Made 4 More. It's been a great way to promote the program organically and without having to do any exhausting or icky sales promos.
And then the final thing I'll be doing for marketing is new and I'm soooo excited about it.
After years of dreaming of a podcast, it appears the time has finally come. I will be rolling out more info about this joint venture I'm entering with a local small business owner and mama here in VT soon.
Again, prioritizing live speaking that's easy and takes little to no prep on my end. These are things that are in direct alignment with my strengths.
If you were to engage in a marketing strategy this year that felt spacious, fun, and respectful of your priorities and constraints, what would it look like?
---
And lastly, let's talk about Sales Strategies
In 2023 I have 3 focuses for my sales strategy:
Show don't tell. This means showing you what it looks like to work with me. Showing you what other clients are doing, achieving and shifting as a result of working with me. Instead of simply telling you to join M4M, I want to show you what it would be like. This means more case studies, more transparency around the group we have, promoting the live Q&A feature I offer (you can speak directly with a M4M alumni or current student, just ask!), and continuing to offer free time on my calendar to come and ask questions.
Explicitly calling in. This year I'm going to focus more on explicitly inviting folks who I think would be a great fit into the program. Instead of being shy and assuming someone doesn't want to join because they haven't yet, I'm going to seek folks out that I'd love to work with and offer my services. I did a round of this when the VSAC approval came through and it worked so well and was met with appreciation. Don't be afraid to tell people you'd love to work with them! I dropped exactly what I said to this individual and their response below ⬇️ so you can see it's not too hard and can work really really well. 😘
Keep doing what's working. Pretty much every single sales call I conduct ends up in me working with someone. It's awesome. I love my sales call strategy. And if it's not broke, don't fix it, right? In addition to my sales calls you'll notice that the emails after every Tea Talk each month are very M4M specific for the following week. That's on purpose. It has worked well and so I'll continue to use that email strategy. It's also about what's in motion tends to stay in motion, right? Try to piggy back sales efforts directly off your marketing efforts. It's easier to keep the ball rolling that way.
Ok, so that was a lot. But hopefully helpful.
Remember, you're not in this alone. You don't need to come up with all your marketing and sales strategies by yourself. I certainly don't. I truly believe I'm smarter and more creative when surrounded by other smart, creative humans.
If you've got questions about any of the above strategies or ideas, just hit reply or better yet, come to next month's Tea Talk. You can ask all your questions there for free!
And lastly, if you've been on the fence about joining Made 4 More and the fence you've been on is money related, I hope you can take advantage of the 38% off this week.
I'd love to see you in there.
We truly have quite the unique community full of anti-capitalists and social impact driven businesses. You'd fit right in.
Coupon code is HAPPY38 and the sale ends this Sunday at 8pm ET.
And regardless of whether or not you join us this week, comment below and tell me your priorities and constraints this year. I'd love to connect over them!
xx
Emily
---
✨ Join Made 4 More today! Use coupon code HAPPY38 for 38% off until EOD Sunday!
💻 Apply for a VSAC grant to cover your M4M tuition
🫖 Sign up for March's free Spill the Tea Talk - topic is Marketing without Social Media
🎙 Check out this radio interview I did on Present Time
💰 Listen to this podcast episode I loved about whiteness and capitalism this past week
Looking for support on how to build not only an equitable business, but one you're actually jazzed to show up for each day?
Join our mailing list to receive tips, tools and the latest news from our team.
Don't worry, we only send stuff you want.
We hate SPAM. We will never sell your information, for any reason.